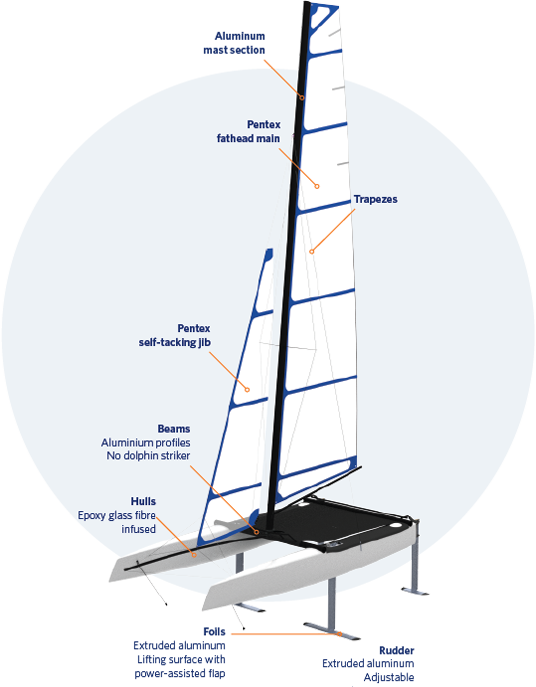 Befoil

16

sport,


the fun, high-performance
foiler for all
Elected "Foiler of the year 2021" by Voile Magazine.
With its self-regulating 'T' foils and its glass/epoxy hulls, the befoil 16 sport is the latest in the Befoil series. The rudder and daggerboard option also means she can be sailed in the traditional way.
In the tradition of the Befoil concept, this new catamaran is simple to use and easy to handle. Insports mode out on trapezes, or in comfort mode with optional wings, the befoil 16 sport gives both amateurs and experts a whole new sensation of speed.
This latest, more sporty version ensures you max out on fun whilst out on the water, taking off in as little as 8 knots of breeze! Flying has never been so easy!
Width
8,20 ft / 2.50 m
14,24 ft / 4.34 m with wing option
Optional furling gennaker
Sails area
Mainsail: 14 m2 / 150,7 ft²
Jib: 3,7 m2 / 39,83 ft²
Mast
27,90 ft / 8.50 m
Aluminum
Hulls
Glass/epoxy infusion
Foils
2 self-regulated T-foils
2 lifting rudders
Take-off
in upwards of 8 knots of wind
Weight
175 kg / 385,81 lb
Befoil

16

sport,


a boat that is
totally scalable
To be adapted to users of all levels
and the needs of sailings clubs and owners.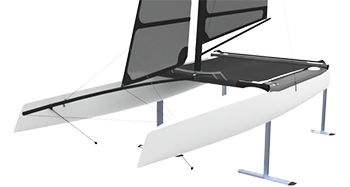 + Sporty
Basic version:
Befoil 16 sport, double trapezes
+ Classic
Daggerboard kit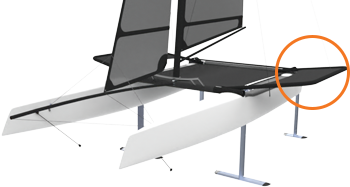 Designed in collaboration with